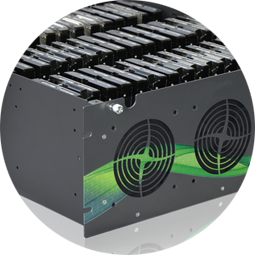 For E-Recyclers Looking to Wipe More Data at Once, For a Fraction of the Cost
Your business depends on your ability to quickly and accurately wipe data.
When clients come to you, looking for their hard drives and solid-state drives to be securely cleared of all data, there's no time to waste on bulky and expensive hardware that slows you down.
The Hardware is the ideal machine for data destruction - affordable, super-efficient and preloaded with the exact software you need to do the job right.
Wipe 30 to 60 drives at once
The capacity ranges from 30 drives to 45 drives and 60 drives. No more clearing only a handful of hard drives or solid state drives at a time as with competitor hardware.
Hard Drive Wipe Time Approximations
Hard-Disk Drive Wipe Time
The drive wipe time depends on the physical size of the HDD - not the number of them, they are all wiped in parallel.
For example, wiping a single 1TB drive will take the same amount of time as 45 1TB drives.
Drive Wipe Time Approximations
There are many wipe procedures in which you clear a disk. Essentially, each procedure writes 0's to every sector of the drive a certain number of times. 1 time up to 35 times. The number of "passes" depends on what wipe procedure you choose.
For a One Pass Zeros of 1 TB Drives, it takes about 1.5 hours
For a US DoD 5220.22-M of 1 TB Drives, it takes about 3.5 hours
Request a Demo